Mitch Blank's North-German Genealogy Site
---
Navigation
Copyright ©1998-2017
by
Mitch Blank
This page created March 20th, 2016, edited February 24th, 2017
Dorothea BENTZ Polzin, 1813-1843
Wife of a Kossath (cottager)
Edward Benz's great-aunt's husband's second wife
---

Husband Johann POLZIN, 1810-1872

---
Time Line
6 December 1813 - Born at Gützlaffshagen, Kreis Greifenberg, Pommern. She was the daughter of Gützlaffshagen Büdner Phippip Bentz and Sophia Buttenhoff.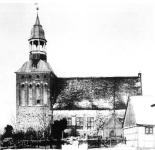 10 December 1813 - Baptized there. Godparents were Dorothea Tiegs, Maria Storm, housemaid from Gützlaffshagen and Martin Bentz, Knecht
30 October 1835, age 21 - Married Johann POLZIN, age 25, there
1 May 1843, age 29 - Died at Zimdarse, Kreis Greifenberg, Pommern at 9:00 AM of Auszehrung (tuberculosis) She was survived by he husband and two minor children.
4 May 1843 - Buried at Gützlaffshagen