Edwin Eugene STERZ, 1906-
Ludwig's son-in-law
---

Father Henry STERZ


Mother Ernestine SCHWEITZER Sterz, -ca 1923


Edwin Eugene STERZ, 1906-

---

Wife Erna Anna Josephine HENNING Sterz, 1913-2009


Son Dale Henry STERZ, 1939-

---
Time Line
As of 1906 - Resided at 1049 Teutonia, Milwaukee, Milwaukee County, Wisconsin
2 April 1906 - Born there
Between 1919 and 1921 - Father Henry STERZ died there
1921, age 14 - Occupation listed as Clerk
As of about 1921 until about 1923 - Resided at 783 4th St, Milwaukee
As of about 1923 until 1934 - Resided at 1110 Davis there
About 1923, age 16 - Mother Ernestine SCHWEITZER Sterz died there
1931, age 24 - Occupation listed as Auto Mechanic
1932, age 25 - Occupation listed as Concrete Worker
1934, age 27 - Resided at 1902 W Brown St, Milwaukee
28 July 1934, age 28 - Married Erna Anna Josephine HENNING, age 20, there. Ceremony performed by H. Knuth; witnesses were Ethel Sterz and her husband-to-be, Elmer Wisnef.
1935, age 28 - Occupation listed as Ornamental Plasterer
As of 1935 until 1937 - Resided at 3360 N 21st St, Milwaukee. He lived with wife Erna's parents.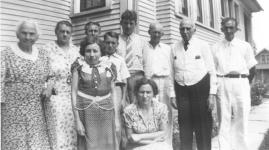 As of 1936 until about 1949 - Occupation listed as Pressman/Mechanic/Millwright/Foreman/Maintenanceman at William O Goodrich Co. Was or became part of Archer Daniels Midland.
As of 1937 until 1950 - Resided at 5525 A N 41st St, Milwaukee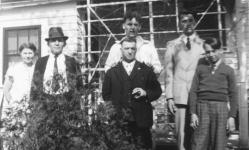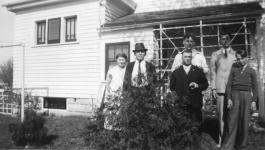 October 1939, age 33 - Son Dale Henry STERZ born there
As of 1950 until 1969 - Resided at 1114A W Keefe Ave there
As of about 1950 until about 1962 - Occupation listed as Salesman at Roland H Flath Photography
23 October 1951, age 45 - Father-in-law Ludwig Wilhelm Gustav "Gust" HENNING, age 72, died at Deaconess Hospital, Milwaukee of Diabetes complicated by heart disease and arteriosclerosis
As of 1962 until 1973 - Occupation listed as Owner at Westgate Cameras
About 1968, age 61 - Grandson Stephen D "Steve" STERZ born at Sussex, Waukesha County, Wisconsin
As of 1969 - Resided at Waukesha, Waukesha County, Wisconsin
1973, age 66 - Granddaughter Barbara Lynn STERZ Noble born at Sussex
Died at Waukesha