Mitch Blank's North-German Genealogy Site
---
Navigation
Copyright ©1998-2017
by
Mitch Blank
This page created October 13th, 2006, updated June 11th, 2008

Anthonius WOLTKE, ca 1543-1604
Lutheran pastor
Friederike's ninth great-grandfather
---
Children:


Daughter Elisabeth WOLTKE Gävershagen

---
Time Line
About 1543 - Born at Hannover, Niedersachsen
1563, age 19 - Ordained. He had been instructed and ordained by Conrado Belkern.
As of 1563 until 1604 - Resided at Groß Poserin, Kreis Parchim, Mecklenburg-Schwerin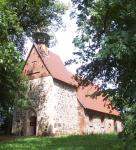 1563, age 19 - Occupation listed as Mietspriester there
1582, age 38 - Became the first permanent Lutheran pastor of the independent parish of Groß Poserin. Until that date Groß Poserin was a daughter church of the parish at Kuppentin. In 1582 the Protestant Bishop granted the church at Groß Poserin the status of an independent parish.
1588, age 44 - Moved into the new parsonage
1596, age 52 - Granddaughter Anna GäVERSHAGEN Harbrecht Niebuhr born in Plau am See?
Between 1597 and 1603 - Son-in-law Christopher GäVERSHAGEN died ; Daughter Elisabeth WOLTKE Gävershagen died
1604, age 60 - Died at Groß Poserin