Mitch Blank's North-German Genealogy Site
---
Navigation
Copyright ©1998-2019
by
Mitch Blank
This page created October 18th, 2005, last updated November 23rd, 2019
William Carl Martin MARCKS, 1881-1887
Friederike's uncle's step-son
---

Mother Sophia Johanna Maria MARKS Augustin, 1859-1941

William Carl Martin MARCKS, 1881-1887

---
Time Line
24 July 1881 - Born at Domsühl, Kreis Parchim, Mecklenburg-Schwerin
7 August 1881 - Baptized. Godparents were Wilhelm Friedrich Pingel, Büdner's son from Domsühl, Caroline Maria Friedrika MARCKS, maid from Damerow (the mother's sister) and Maria Freude (Mrs Zackow), midwife from Domsühl. After his mother married Johann Augustin, Wilhelm went by the surname Augustin.
As of sometime before 1884 - Resided at Schlieven, Kreis Parchim, Mecklenburg-Schwerin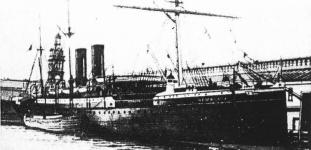 4 May 1884, age 2 - Emigrated in Hamburg. Traveled on the ship 'Hammonia' with his mother and the Joachim Augustin family.
19 May 1884, age 2 - Immigrated at New York, New York
2 June 1884, age 2 - Mother Sophia Johanna Maria MARKS, age 24, married Johann Friedrich Christian "John" AUGUSTIN, age 31, at Zion United Church of Christ, 1124 North 6th Street, Sheboygan, Sheboygan County, Wisconsin
15 November 1885, age 4 - Half-brother John William Fredrick AUGUSTIN born at Atwood, Clark County, Wisconsin
18 May 1887, age 5 - Half-sister Ida Sophia Fredericka AUGUSTIN born there
13 July 1887, age 5 - Died