Mitch Blank's North-German Genealogy Site
---
Navigation
Copyright ©1998-2017
by
Mitch Blank
This page created October 13th, 2010, updated December 4th, 2012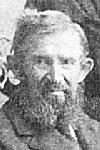 Friedrich Wilhelm "William" BERGMANN, 1830-1900
Farmer
Berthold's first cousin once removed's husband
---

Wife Ernestine Friedericke Auguste WEITHKE Bergmann, 1850-1914
The couple had five children

---
Time Line
9 December 1830 - Born at Wiesenthal, Kreis Lowenberg, Silesia. He was the son of Gottlieb Wilhelm Bergmann and Christiane Fredericke (Loehndal) Bergmann.
26 November 1871, age 40 - Married Ernestine Friedericke Auguste WEITHKE, age 21, at Wilson Twp, Winona County, Minnesota. The couple had five children. The children were Friedrich August Bergmann (1872-1944), Ida Louise Augusta Bergmann Block (1874-1954), Emilie Matilda Bergmann Oldenburg (1877-1956), Frederick Wilhelm Heinrich Bergmann (1880-1892), and Hermine Meta Bergmann Runge (1886-1963).
As of sometime before 1872 - Resided there
1875, age 44 - Recorded in the Minnesota Census there
4 June 1880, age 49 - Recorded in the United States Census there. The houshold included their four oldest children and William's aged parents.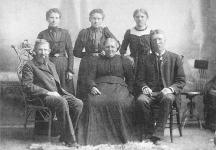 13 June 1900, age 69 - Recorded in the United States Census there
25 June 1900, age 69 - Died there